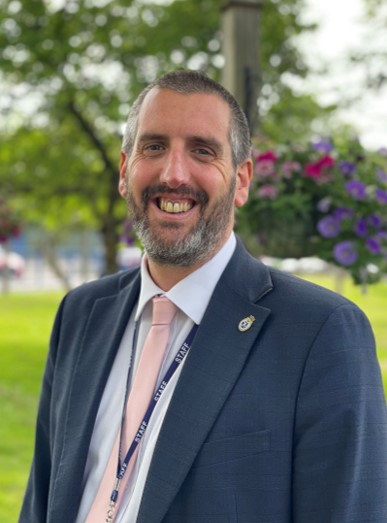 Students have made a great start to the new school year, settling into new routines quickly and it's wonderful to see so many happy, smiling faces every day.
The school site was extremely busy over the summer period, with the heating replacement project in full swing. The larger communal areas of the main block have had all of their heating systems replaced and new pipework installed underground. All of this work is extremely difficult to complete and manage during term time. The project has now moved over to Technology and Student Services, with the first stage being almost complete. In November, work will move over to the Lantern.
Over the summer, our new air source heat pump for the Jubilee building was commissioned and tested, which will make a significant contribution to our sustainability drive. As part of the heating project, we are also installing LED lighting in areas which do not currently have it; by the end of the project, the school will only use LED lighting. I'm sure students in Geography and Maths will be involved in calculating our reduction in energy usage as a result of this project!
Click here to see what's on next week:
Years 11s: Free NCS Programme
In partnership with Personal Best Education, Year 11 students are invited to participate in the 'NCS Grow Your Ambition' Programme. This programme offers a range of experiences for young people that supports them to become world-ready and work-ready through growing their confidence, independence, and skills; connecting them with people from all walks of life and empowering them to make a difference in their communities and wider society.
The programme is for students aged 16 - 17 years and is free of charge, fully funded by NCS. Click the button below for more information, and to sign up!
If you have any queries, please email Personal Best Education.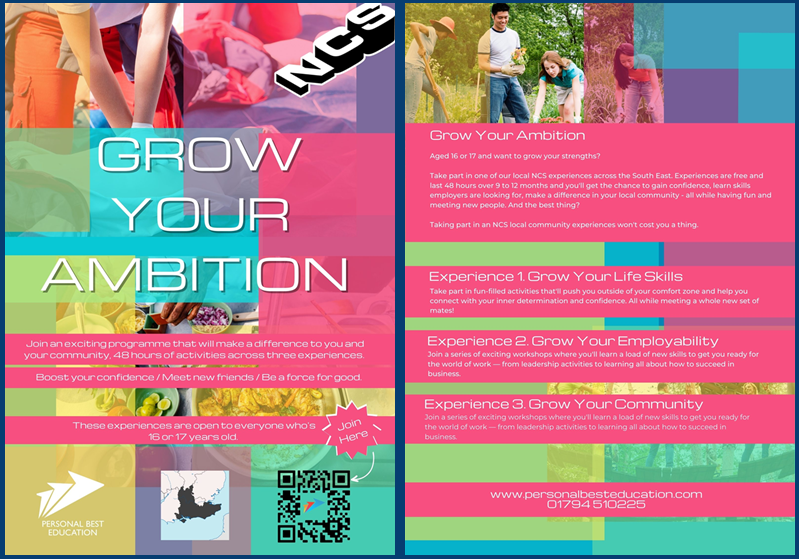 Walktober 2023
The Mountbatten School has joined up with 'My Journey Hampshire' for Walktober 2023! Walktober is a challenge held each October to celebrate International Walk to School Month. School communities have been asked to walk, wheel and use other active and sustainable travel as much as possible throughout the month.
If you are not sure how to plan your route, you can use the My Journey route planner.
Whole School Flu Vaccinations
The Whole School Flu Vaccinations will be taking place on 26 and 28 September:
26 September: Lantern Theatre
28 September: Sports Hall
If you have not yet completed the Parental Consent Google Form, please could you do so, as soon as possible. Parents/Carers have been emailed the link.
Music Tuition - Autumn Term
We would like to remind you that music tuition fees for the Autumn Term 2023 are now due. Please could you check your Scopay account to check the amount and make your payment.
Fees for the Autumn term are £95.00, with the exception of piano tuition which are £120.00 (if your child is eligible for Pupil Premium, please be aware that Pupil Premium discounts will be applied to their accounts soon).
If you have any queries please contact The Finance Department.
07 Sep 2023

Actual Salary Details: Grade B £16,249 - £16,478/Grade C £16,519 - £17,252 (depending on experience) 30.83 hours per week, Monday to Friday 8.25 am to 3.15 pm – 39 weeks per annum
Click the drop-down menus below to find out more about different careers opportunities coming up for our students.
Ultimate Virtual AHP Work Experience: Fracture Case Study - ALL YEARS
The Gambia Dresses - Written by students in Year 11
For the past few years, the Year 9 textiles classes have been busy making dresses for some of the girls at our partnership school, The Mansa Colley Bojang School, in The Gambia.
We were challenged to design and sew the dresses using pillow cases, which helped us think about the sustainability of reusing and repurposing products, whilst also helping the children who need it most. Each member of the textiles group made a dress and, over the years, this has built up so we have over 100 dresses to take to The Gambia when we visit in October.
The design and making process helped us develop basic skills such as bias binding, gathering, applique and the use of different stitches. We have used a range of different colours and patterns to make each dress individual and unique. We are pleased that we have been able to contribute to the dress collection and will be happy to deliver the dresses to the girls in The Gambia when we visit.
Written by Freya R 11DSS and Emma G 11RLR/SOE
We would also like to express our gratitude to the Technology Department for supporting this outreach project to serve our global community.
Book spotlight - Rebel Fire
The follow up to Rebel Skies, the fantasy trilogy inspired by Japanese folklore - Kurara and her shipmates have escaped the grasp of the princess and continue their search for the elusive paper phoenix through forests and across the seas. But will it be saved - or destroyed?
Book Sale - Friday 29 September 2023
Students: Please join us for a book sale in the Library on Friday 29 September at Afternoon Break! 3 books for 50p!
All proceeds will go towards new books for the library and the CRY Charity.
Library Books - Overdue Books Reminder
This is a reminder to please return any overdue books.
The school Library is once again open to all students before tutor time, at morning and afternoon break. It has been fantastic to welcome students for browsing and borrowing.
If you have any overdue Library books at home, please make a huge effort to return them, we would love to have them back, thank you.
RSHE (Relationships, Sex, & Health Education) is taught by Tutors to their Tutor Group once a week. Tutors deliver discussion based lessons which allows our students to explore a range of topics to effectively prepare our young people for success in the modern world with the knowledge, understanding and desire to keep themselves safe, happy, healthy, respectful and tolerant. Our aim is to empower them with the resilience and confidence to make a difference to their own and others' future.
Click on the tabs below to find out what each Year Group is up to!
Whole School
None
Year 7
Year 8
None
Year 9
None
Year 10
None
Year 11
Personal Best Job Vacancy
Personal Best Education is hiring.
They have the following full time roles available:
Operations Coordinator - Junior Programmes (£25,000 - £27,000 PA)
Customer Service Administrator - (£20,000 PA)
For more information on these roles and how to apply, click the button below.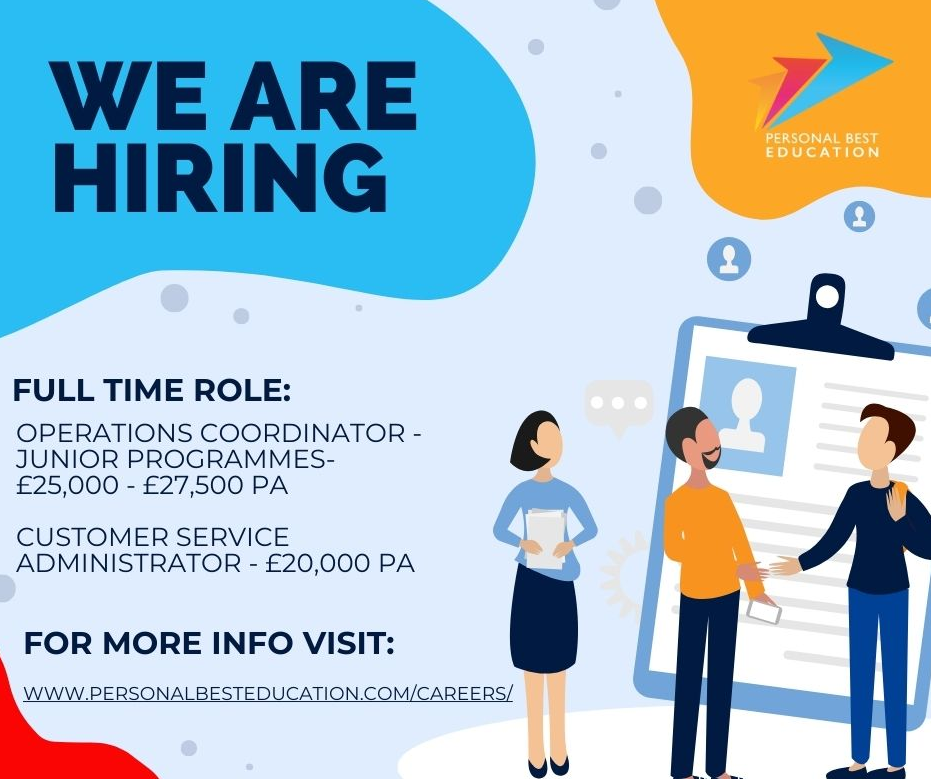 Personal Best Football Development Centre - Year 7 & 8
Personal Best offer professional coaching for Year 7 & 8 students every Monday from 5.30pm - 7.00pm.
For more information, please visit Personal Best's Website via the button below.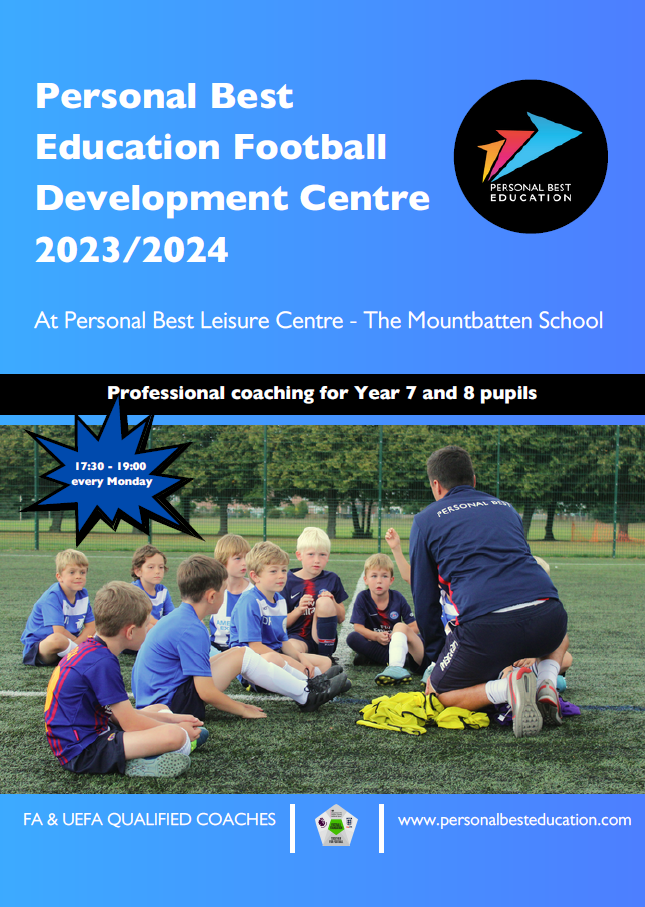 Adult Spanish Basics Course
Looking for a new challenge? Why not learn Spanish? The world's second-most spoken language in a friendly, relaxed atmosphere! Starting Thursday 21 September - first session is free and full refund issued if you decide it is not for you. For more information and to book, click below.