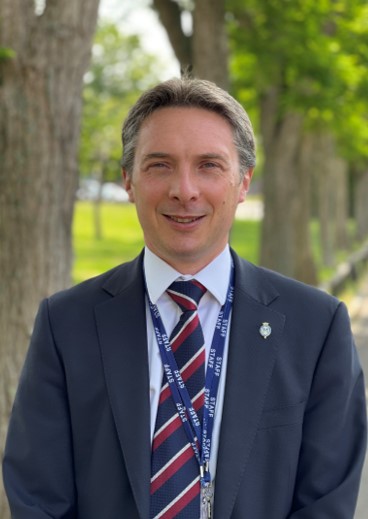 As we rapidly approach the end of the first half-term of the year, we are excited by a number of opportunities for us to celebrate the successes of Mountbatten students and to meet with parents/carers.
Yesterday it was fantastic to see so many parents/carers of our new Year 7 students come in to meet with their child's tutor. Children are successful at school when parents/carers, children and the school work together and therefore these evenings, when parents meet to create strong relationships with their child's tutor, are so important for future success. Welcome to Mountbatten to all our Year 7 and their parents/carers.
On Monday 17 October I am really excited to have been invited to celebrate the success of some of our students at The Romsey and District Society Warner History Prize Awards Ceremony. Some of our fantastic students have completed some outstanding History projects which have been recognised by being shortlisted for this prestigious prize. I look forward sharing in their success and hopefully to be there to see some winners from Mountbatten.
On Tuesday 18 October we are really looking forward to our amazing musicians performing in another one of our outstanding Autumn Concerts at Romsey Abbey. We can all be certain that the high quality of the music will make it an evening full of delights.
Finally next week, we have invited our Year 11 parents/carers to meet with teachers to discuss their progress. A really important opportunity for us all to get together to help ensure our Year 11 students will be as successful as ever when they take their GCSEs next year.
Thank you to all parents and carers for their support over the last half term, it helps us to maintain the success and standards I know you have all come to enjoy at Mountbatten.
Click here to see what's on next week:
Polite Request
The school has had several complaints from local residents about parents parking in the side roads on the new estate next to the Luzborough pub. We would like to be good neighbours in our local community so could I kindly ask parents to be mindful of local residents when they are collecting their children from school.
Thank you.
Mr A Portas
Headteacher
World Mental Health Day
This week saw World Mental Health Day. Tutors have been sharing tips and advice to boost students' mental health and wellbeing. Areas covered include:
Asking for help
Developing healthy habits
Improving your mood
Increasing your self-esteem
Check out this brilliant poster with an A-Z of mental health and wellbeing strategies we can all use.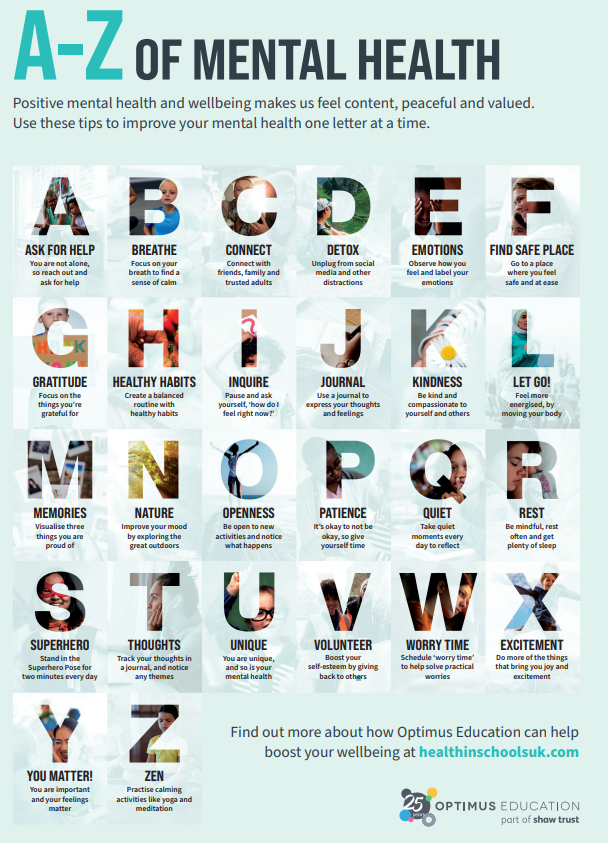 Year 11 GCSE Maths – Weekly Practice Paper Homework Launch
In preparation for the GCSE Maths exams in summer 2023, this Friday we are launching our weekly homework programme of practice papers with our Year 11 students.
Each Friday, Year 11 students will receive a whole GCSE practice paper to complete over the course of the following week. We operate a "No Gaps" policy - every student is required to complete every question in the paper as directed by their teacher. Some questions may be marked as optional, depending on the group.
These papers are not intended to be completed under exam conditions, nor are they intended to be completed in isolation. Students are encouraged, where appropriate, to complete these in collaboration with their peers and to use revision notes, guides or online resources such as Sparx Maths. The class teacher will be marking these papers in line with exam board mark schemes so it is vital that students show full workings i.e. if a student's response to a 5 mark question is to simply record the answer, they will achieve (at best) 1 mark.
Initially, the papers will be challenging as students gain familiarity with the style of the papers and the exam-specific practice of hopping from one topic to another. We firmly believe that the best way to learn Maths is to DO Maths with lots of practice. Research has shown that interleaving topics in this way has a profound effect on exam performance. We attribute a significant part of our GCSE success over the last few years to the use of these weekly papers and students tell us they REALLY make a difference.
GCSE Maths revision guides and workbooks continue to be available for sale. These can be purchased on SCOPAY. Sets 1-3 require the Higher tier and Sets 4-6 the Foundation tier books.
Thank you for your ongoing support.
Autumn Concert - Tuesday 18 October, 7.00pm
For those taking part –
There will be rehearsals in Romsey Abbey on Tuesday 18 October beginning at 9.45am.
Students who have requested transport to Romsey Abbey should arrive at school at the usual time.
Students will need to bring a packed lunch or money to buy lunch in Romsey. A packed lunch will be provided for students in receipt of free school meals.
Students should wear school uniform during the day and in the evening.

Don't forget your instrument and your music if you need it!
Charity Fashion Show
Amy Wright, Children in Need Fundraiser of the Year 2021, is hosting a fashion show at Mountbatten School to raise money for Children in Need.
The fashion show will take place on Friday 4 November from 7.00pm at Mountbatten School. 40 models from Bradbeers will strut the catwalk in Bradbeers fashion.
The Romsey Rock Choir will perform at half-time, while raffle tickets will also be on offer.
To read/donate to Amy's 'JustGiving Page', please click below: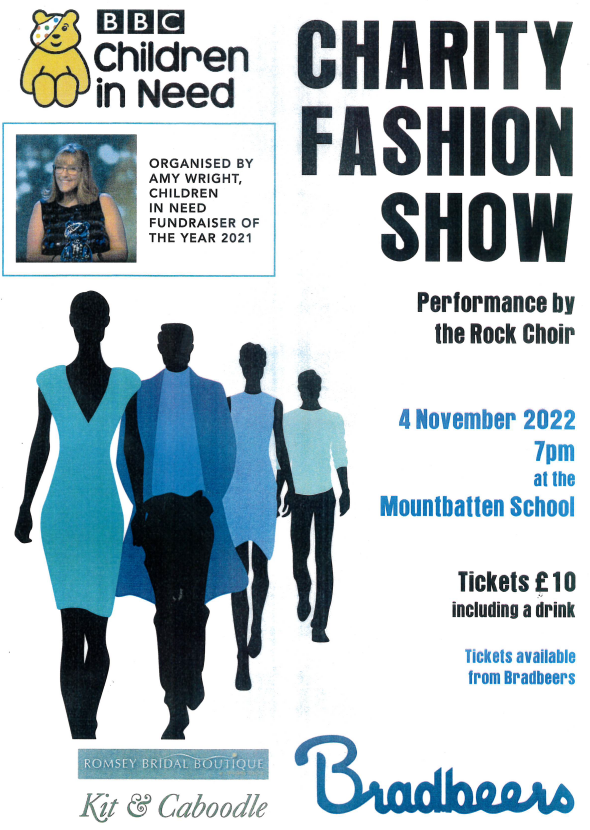 Great Big Advice Days
Disabled People's Voice, funded by Hampshire County Council, is running two free Great Big Advice Days. They are open to anyone struggling with the cost of living (not just people with disabilities) and will advise on how to access various services, benefits and information.
The events will be held on the following dates; flyers are below (with further events to be announced in the new year):
At the Heart of the Park (Leigh Park Community Centre), Havant on 15 October
At Thorngate Halls, Gosport on 12 November.
The aim of these events is to make it as easy as possible for people to access services, benefits and information to empower them to deal with their personal cost of living crisis. Organisers say they want people to go home from the Great Big Advice Days armed with tools, knowledge and strategies to help them deal with inflation and rising prices.
Alongside the exhibition, DPV will be running presentations and demonstrations on topics such as cooking on a budget and growing your own vegetables.
All the venues are on bus routes and have parking.
Chromebook Scheme - Ends on Sunday 16 October
This is a reminder that the Chrombeook scheme will close this Sunday 16 October at 10.00pm. Please click below to access the Chromebook Scheme link.
COVID-19 Autumn Booster & Flu Vaccines for Carers
Please click below to view the letter from the Department of Health and Social Care regarding carer's over aged 16 being eligible for the COVID-19 and Flu Vaccines.
| | |
| --- | --- |
| 26 Sep 2022 | 06 Sep 2022 |
The Library
Year 7 Reading Safari Stars
Science Department
F1 in Schools SW Regional Finals
Click the drop-down menus below to find out more about different careers opportunities coming up for our students.
Top Tip
Goal 1: No poverty
Extreme poverty rates have been cut by more than half since 1990 which is an incredible acheivement! However, 1 in 5 people in low income countries (LICs) and newly emerging economies (NEEs) still live on less than US$1.90 per day. The World Bank is looking to update the poverty line to US$2.15 before the end of the year. Goal 1 aims to make economic growth inclusive and sustainable so that no one is left behind.
What can we do to acheive this goal?
On Monday 17 October we will be celebrating the International Day for the Eradication of Poverty and the theme this year is "Dignity for All in Practice." This day is significant this year as recent reports have found that the Covid-19 pandemic has erased 4 years of progress in eradicating poverty. One of the best things that we can do to support this goal is educate ourselves in the challenges that people living in poverty face everyday and use our problem-solving skills to think of local and sustainable solutions. This site is a good place to start.

Wobbly Stick
This week is a balance challenge... find details below:
Congratulations to Heidi C 7TAS and Advik B 7IBR on their responses last week.
Please ask your child to email their responses to the following email address to ensure they get their rewards: trythisathome@mountbatten.hants.sch.uk
Spotlight on Reading
October is Black History Month in the UK.
To celebrate, the library has created displays to promote some of the BIPOC (Black, Indigenous, and people of colour) literature we have available. We have a range of fiction written by BIPOC authors featuring diverse main characters as well as a selection of non-fiction. We would recommend the books 'Black History Matters' by Robin Water and 'Black and British' by David Olusoga as a starting point for anyone who wants to learn more.
In RHSE this half-term, students have made a great start to their discussion based lessons where they have explored a range of topics.
Should your child wish to seek support in any of these topics or about anything else that is worrying them, please advise them to speak to their form tutor in the first instance or request some support from our Student Support team by completing the Student Support form on the student area of the school website.
Other local support can be found at Youth In Romsey and No Limits
Childline also offer a range of support and resources.
Level 2 & 3 Courses- Bikeability - Open to Year 7, 8 and 9s only
Personal Best is pleased to be able to offer Level 2 & 3 Bikeability courses FREE of charge . These will take place during October half-term at The Mountbatten School. All courses will be half a day. For more information and to make a booking please follow the below steps:
Step 1 - Go to https://pb.schoolactivity.co.uk/
Step 2 - Choose the icon for 'Bikeability'
Step 3 - Select Activity – Option A 'Level 2 Bikeability Course' or Option B 'Level 3 Bikeability Courses'
Step 4 - Choose the date and time that suits you. Complete your child's details, then add 'Activity to Basket' and finally click on 'Proceed to Checkout'
Step 5 - Complete the information page, and complete the booking
If you have any questions please contact Glenn Vincent
07 Oct 2022

This episode features students from every year group and Miss Roodt (Humanities Coordinator) discussing sustainability and how we can all do our bit as a school community to be a bit more sustainable. How can we all be imperfectly sustainable? Listen in for some great top tips from our students and...