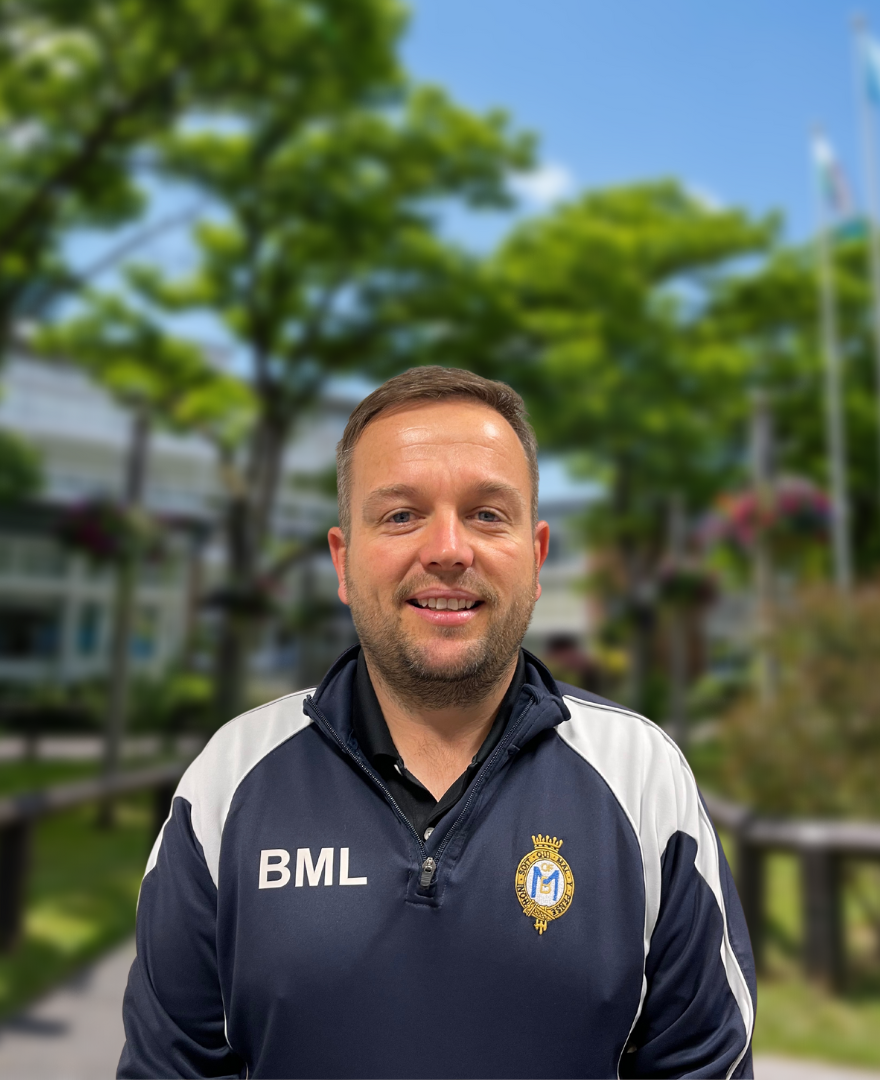 As Head of Lower School I am very privileged to be able to interact with over 900 hundred students on a weekly basis. This could be through classroom teaching, assemblies, celebration mornings, tutor time, extracurricular activities or simply out and about at break time. I am always amazed by the care, respect and willingness to achieve that our students show. I am also very lucky to work alongside three fantastic Heads of Year in the Lower School. Together, all four us know that the foundations for a successful Key Stage 4 are laid down in Key Stage 3.
As well as overseeing transition through the Lower School as part of my Directorate role, I also monitor and track attendance across the school with help from the attendance and pastoral team. Together, we have managed to establish a number of close links with local infant, junior and secondary schools who have all shared the table below which summarises how excellent attendance positively impacts your child's progress.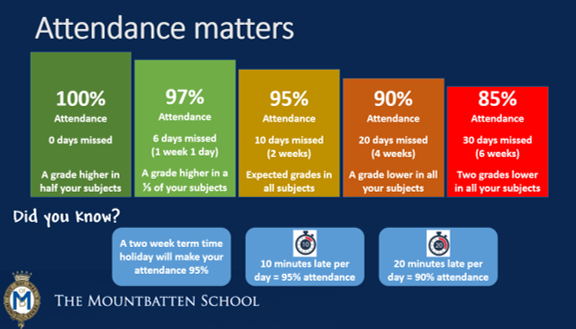 Having trained as a specialist PE teacher it won't come as a surprise when I say you have to be 'in it to win it' regarding attendance. Attendance is critical to school success. If your child is unwell, please remember to contact the school each day by 9.00am via the school switchboard on 01794 502502 (option 1) or by email at attendance@mountbatten.hants.sch.uk.
If you do have any specific concerns regarding your child's attendance, please do not hesitate to get in contact with the school via your child's tutor who is always there to support.
Click here to see what's on next week:
Industrial Action Update
As parents/carers, you will have received a letter regarding the Industrial Action. The school will only be open to the following groups on Wednesday 1 February:
Looked After Children and vulnerable children
Children of critical workers
Children preparing for public examinations - all of Year 11
For students not in the three priority categories above - as defined by the Department for Education - work will be provided on Google Classroom.
If you are a critical worker and you intend to send your child into school, please complete the Critical Worker Attendance Notification Form.
More information can be found in the 'Letters you may have missed section' below.
Dropping students off (A27)
Please may we remind parents/carers to not drop students off at school on the A27. This is a very busy road and it is not safe for students to cross. Thank you for your support with this.
Chinese Festival - Chinese New Year
Happy Chinese New Year of Rabbit! Mandarin students celebrated the biggest Chinese festival in a lively fashion for the last two weeks. There has been bubble tea and a bake sale to raise money for charity and some cross-curriculum activities. Year 7 MEP students went to Bay House School, joining students from other MEP schools for a Chinese Cultural Day. Year 8 MEP students visited The British Museum and Chinatown in London to explore and experience the Chinese history, art and food culture.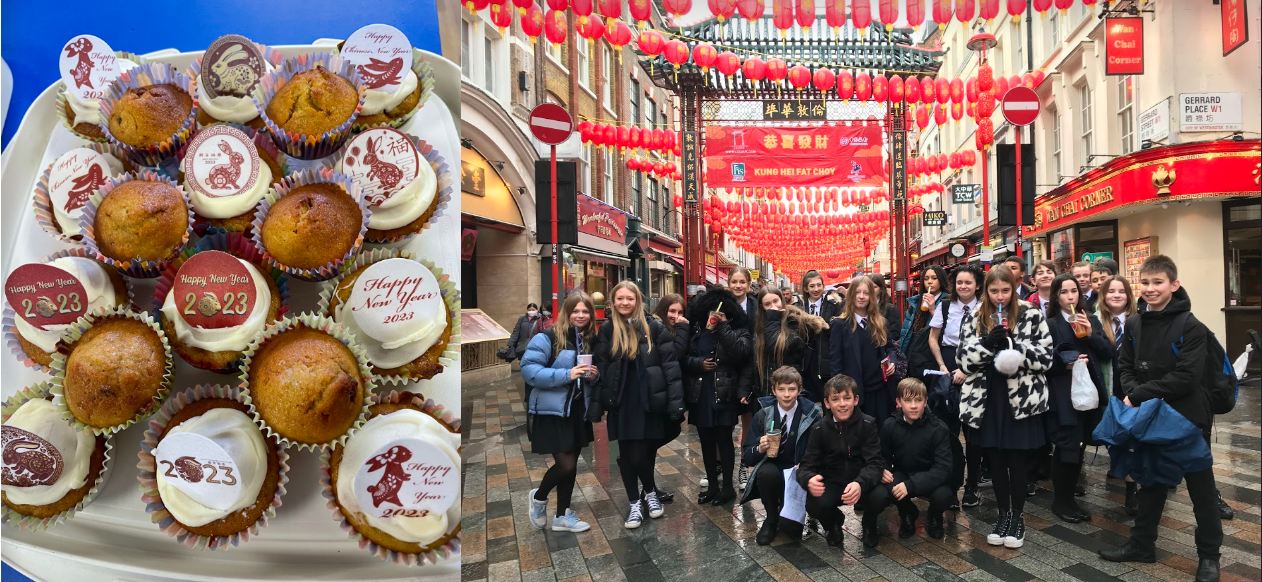 For more details, please listen to the activity introduction by Year 7 MEP.
Free Paediatric First Aid Courses in Spring Term
Hampshire Libraries are offering free* paediatric first aid courses this Spring Term. These courses are aimed at Hampshire residents aged 19+. For more information and to book, click the button below.
*Free tuition, optional certification available at a cost.
Learning in Libraries - Paediatric First Aid Courses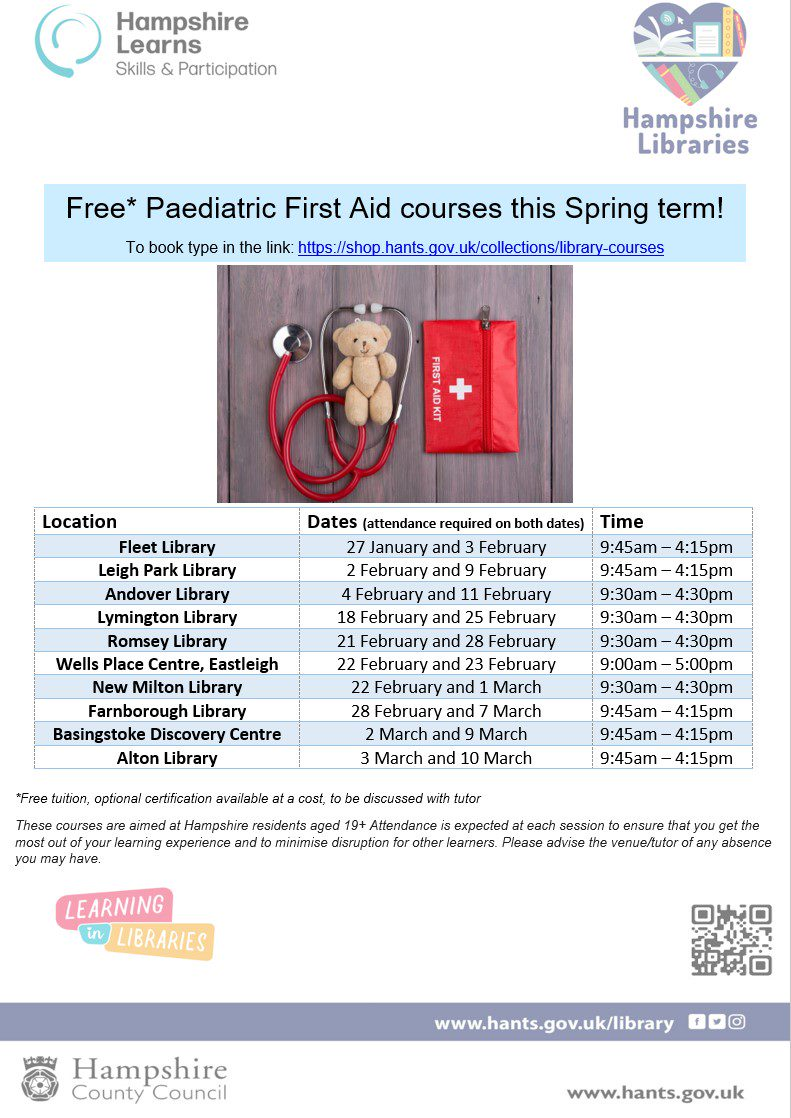 Forming Positive Relationships
This week's Mountbatten Miniseries clip from Lorraine Lee is all about how to talk with your child about forming and maintaining positive relationships with their peers in secondary school. All of our Mountbatten Miniseries clips can be found on our website linked in the button below.
23 Jan 2023

Permanent Position - Full Time Main Pay Scale (£28,000 to £38,810) depending on experience
The Library
Year 7 Reading Safari Stars
Science Department
Bronze Duke of Edinburgh Award
Swimming - County Championships
Congratulations to these swimmers who competed in the county championships in Winchester last weekend:
Izzy H 11GWT/VGN 100m Breaststroke: 2nd place
Nathan L 11GWT/VGN 50m Butterfly: 1st place County Champion
An amazing achievement - well done!
Click the drop-down menus below to find out more about different careers opportunities coming up for our students.
Routes into STEM - Years 9 & 10
Year 11 College Application Deadlines
Gender Equality / Gambia Fundraising
Last year we started a fundraising partnership with our school, The Mansa Colley Bojang School, in The Gambia. This fundraising initiative resulted in our students sponsoring two girls to attend secondary school for the year, meaning that they will have access to all school resources, a hot meal and a school trip once a year. Educating girls is recognised as a fundamental way to combat climate change. If you want to know more about this, please read Wonder Foundation's site.

Students attending The Gambia expedition in October later this year have been tasked with raising funds for our partnership school and we would encourage our local school community to get involved too! Keep an eye out for upcoming fundraising events.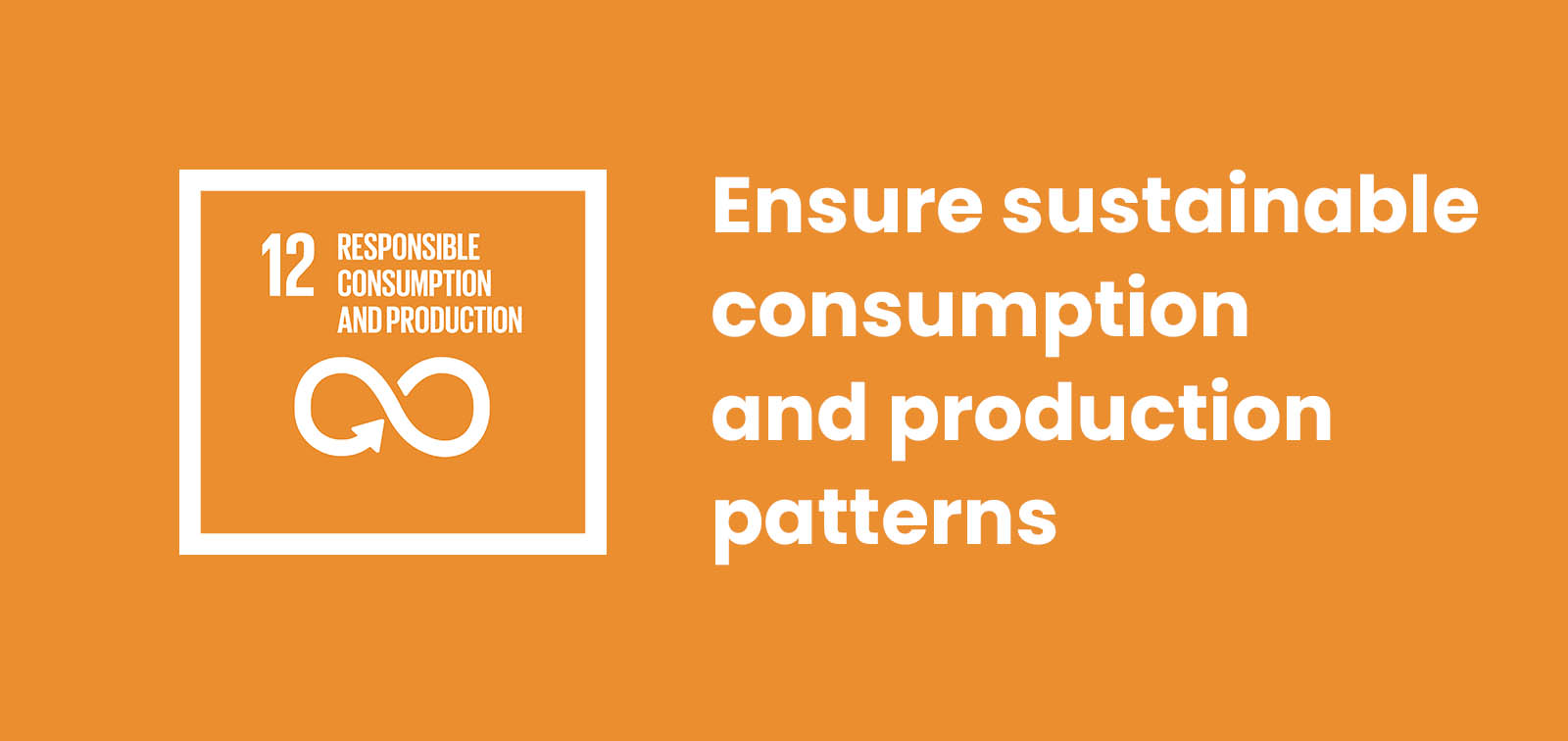 RSHE restarts for the Spring Term on Monday and tutors are looking forward to reconnecting with their tutees through the discussion based lessons.
Should your child wish to seek support in any of these topics or about anything else that is worrying them, please advise them to speak to their form tutor in the first instance or request some support from our Student Support team by completing the Student Support form on the student area of the school website.
We have also launched our message reporting system 'TooToot'.
Other local support can be found at Youth In Romsey and No Limits
Childline also offer a range of support and resources.
Part of the healthy living topics include discussing the need for good sleep habits. Support with teenage sleep can be found at Teen Sleep Hub which is part of The Sleep Charity.
Level 3 Bikeability Courses - Years 7, 8 & 9 only
Personal Best is pleased to be able to offer Level 3 Bikeability courses FREE of charge . These will take place during February half-term at The Mountbatten School. All courses will be half a day. For more information and to make booking please follow the steps below:
Level 3 Bikeabilty Courses
If you have any questions please contact Glenn Vincent.
Mountbatten Activity Camp, February Half-Term
Following the success of their Christmas Programme, Personal Best Education is running an activity camp during February Half-Term for children aged 6 - 12. For more information and to book, click the button below!
Whole School
Year 7
None
Year 8
None
Year 9
Year 10
Year 11
28 Nov 2022

In this episode, a group of students meet Mr Portas, our new Headteacher, and ask him questions about the things that matter to them. From what makes Mountbatten special through the controversial topic of pineapple on pizza!