Geography
Lower School
All students in Lower School develop their approach to geographical enquiry through a broad and balanced curriculum of human and physical geography. This includes the opportunity for off-site fieldwork in each year group. To find out more about what we study in each year group in Lower School, click on the year group sections below.
Year 7
In Year 7, we study:
The UK through the eyes of a geographer - introducing students to human and physical geography in the UK whilst developing their numeracy and data presentation skills.
What influences our weather and climate? A deeper look into the factors affecting our weather, including onsite fieldwork to monitoring the changing weather conditions over time.
Contrasting places: Asia and Africa – Understanding the opportunities and challenges faced on two of our most complex continents.
Global influence of China and India – An investigation into these two economic superpowers with rapidly expanding populations.
How our coasts change over time – including fieldwork to Lulworth and Durdle Door.
Year 8
In Year 8, we study:
How likely is Romsey to flood in the future? Including a fieldwork data analysis at our local river in Tadburn Meadows.
Global threats – an investigation into the greatest threats facing our planet, including plastic pollution, climate change and the spread of viruses and diseases.
Can we live safely near volcanoes? Developing an understanding of the theory of plate tectonics.
The changing face of Europe – examining Europe in the past and present and considering the UK's future relationship with Europe and the EU.
The complexities in the Middle East – gaining an insight into the physical, social, political and economic opportunities and challenges in the region.
Year 9
In Year 9, we study:
Tourism: A growing or dying industry? A national and global comparison of tourism, including fieldwork in The New Forest National Park.
Living with weather hazards - understanding the formation, impact and responses to tropical storms as well as extreme weather in the UK.
Our changing climate – who is to blame? Evaluating the causes of climate change and considering mitigation and adaptation strategies for different regions of the world.
Living with earthquakes - understanding the causes, impacts and responses to earthquakes.
Interactions within small-scale ecosystems - investigating the complexities and balance that exists within small-scale ecosystems, including soil analysis on the school site to understand the role of nutrient cycling.
Upper School
We follow the AQA syllabus which is assessed at the end of Year 11 with three examinations. The course has been carefully selected to give:
A balance of theoretical and practical work, encouraging an active involvement in the subject
An ideal foundation for learners who want to pursue Geography at A Level or as a career
An understanding of global geographical issues and how to apply this to a range of contexts.
Examples of fieldwork conducted includes a visit to Swanage Bay in Dorset. Students have to illustrate, analyse and draw conclusions from the data they collect. As part of their studies in Paper 2, students also take part in an educational visit to our local city of Southampton to support them in understanding how change in UK cities creates social, economic and environmental opportunities and challenges.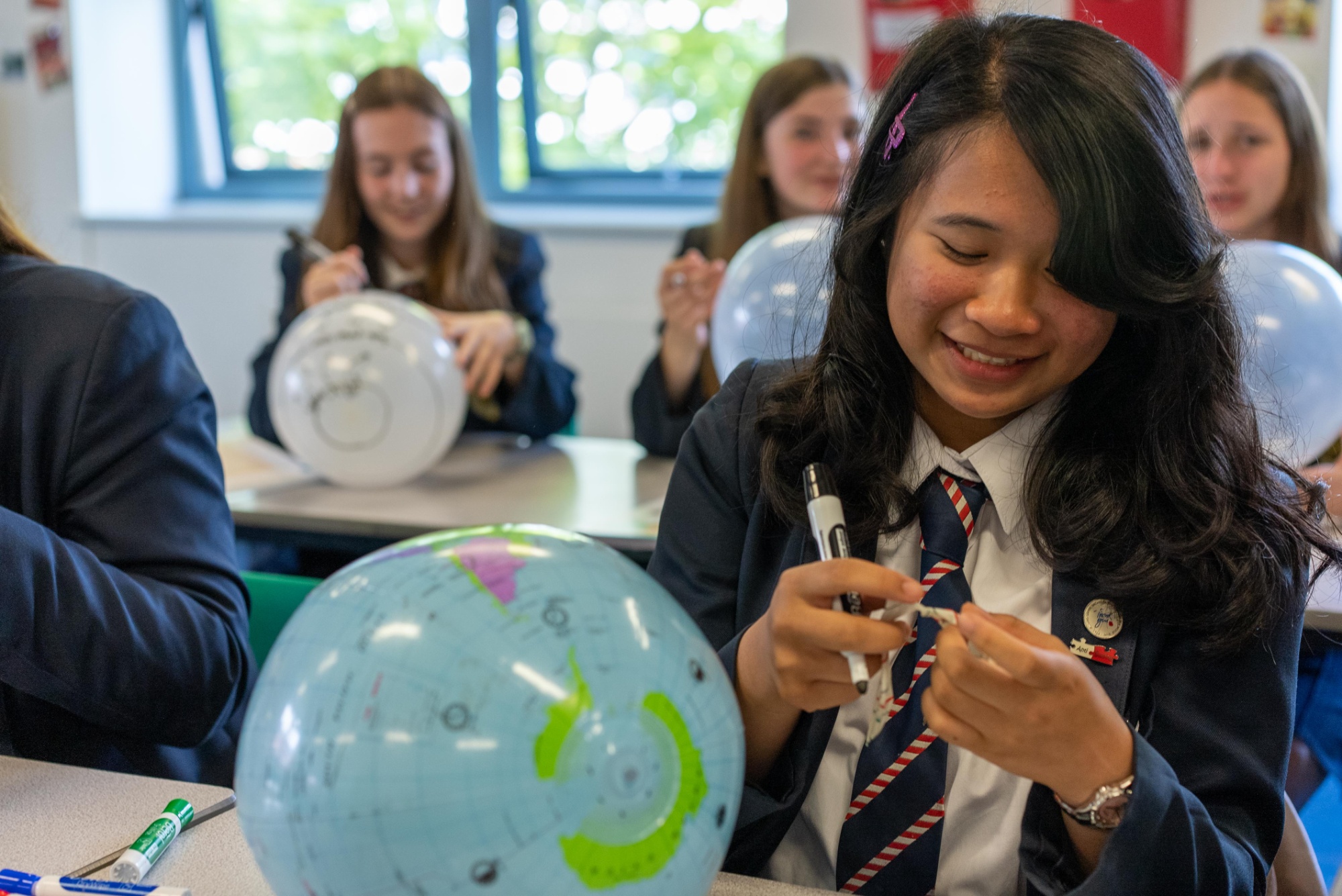 Facilities and Resources
The Geography department has three well-resourced classrooms. Geography lends itself to visual resources and the projectors are in constant use bringing stimulating, real-life issues into our classrooms.
We have access to 32 Google Chromebooks and subscribe to Digimaps for Schools giving all students access to Geographical Information Systems. Complementing this, bookable sets of iPads with a range of applications to use in the classroom and in the field are in regular use in the department. We also subscribe to the Geographical Association and the Royal Geographical Society to ensure students have access to the most up-to-date academic literature in our subject.
We love exploring on fieldwork."
Trips, Activities, Extra Curricular
Fieldwork underpins much of our teaching and we are keen that students experience 'Geography live' as positive fieldwork experiences can benefit students' learning and personal development, in more than simply geography. Whilst in the Upper School students may also have the opportunity to experience the geographical trip of a lifetime to the wonders of the western United States or an expedition to the Azores archipelago.
Currently, our students take part in a number of internal and external competitions, from the Geographical Association Annual Physical Geography Competition, the Hampshire Geographical Association quiz and the Eastleigh Consortium quiz to the prestigious Hampshire Schools Challenge. We also encourage our students to take part in the national competitions run by the Geographical Association and the Royal Geographical Society.
Contact
Miss Roodt is the Head of Geography and Humanities Coordinator, you can contact her through this email with the subject line marked "FAO: Miss Roodt Head of Geography".
You can always see what The Mountbatten Geography Department are up to on their Instagram account too!