Careers
CEIAG (Careers Education, Information, Advice and Guidance) is designed to prepare students for life in modern Britain by providing the knowledge, understanding, confidence and skills that they need to make informed choices and plans for their future learning and career.
The careers programme is guided by the eight Gatsby Benchmarks, which are a framework designed to deliver world-class careers education. The benchmarks are:
A stable careers programme
Learning from career and labour market information
Addressing the needs of each pupil
Linking curriculum learning to careers
Encounters with employers and employees
Experiences of workplaces
Encounters with further and higher education
Personal guidance
Our CEIAG programme provides activities appropriate to age and need and has been designed to enable students to progressively further their skills and knowledge. The school follows the Career Development Institute's framework which encompass six career development areas, which allows students to have positive careers.
The Six Learning Areas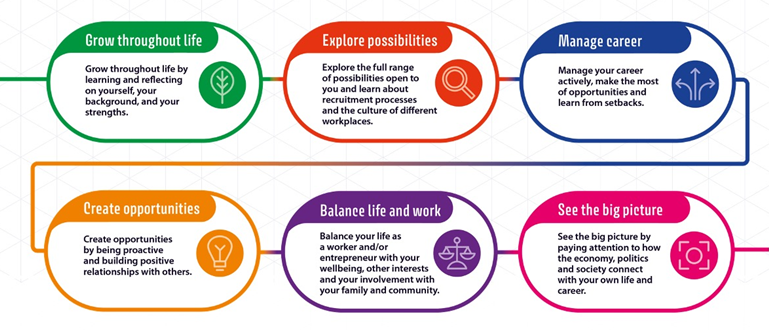 On top of weekly careers education lessons, which start in Year 7, students are able to take part in a variety of assemblies with employers and colleges, workshops, trips, events such as National Careers Week, work experience and Work Enrichment Days. Our focus for 2022-23 is to increase employer visits to lessons to enable students to see the connection with what they have learned and its relevance with the world of work.
Contact
The school is fully compliant with the Baker Clause. Any establishments wishing to visit the school to talk about their provision and opportunities, should contact the school's Head of Careers, Mrs Shakya. You can contact her through this email with the subject line marked "FAO: Mrs Shakya Head of Careers". Alternatively please call 01794 510260.